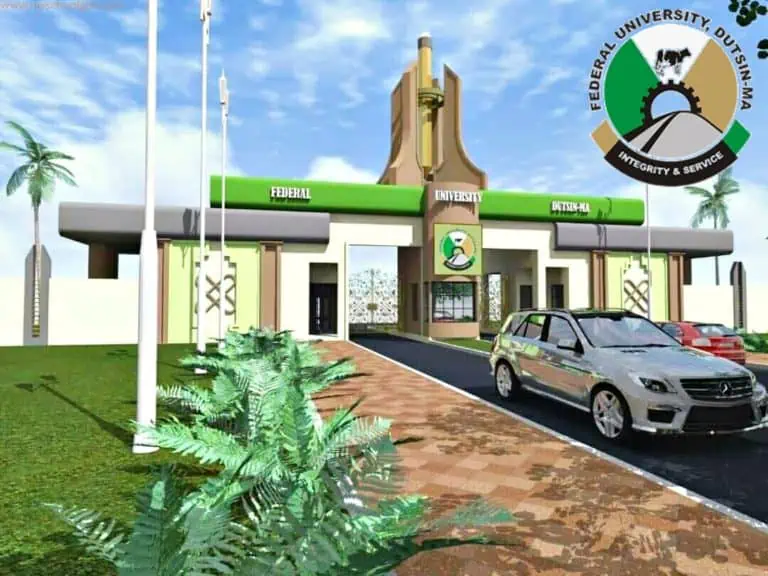 Federal University Dutsin-Ma FUDustin-Ma CEC 5th Matriculation Ceremony
The management of Federal University Dutsin-Ma (FUDMA) in Katsina State, Nigeria, wishes to announced to invite members of the general public to her 5th Matriculation Ceremony of the Continuing Education Centre (CEC).
Federal University Dutsin-Ma Announces The 5th Matriculation Ceremony Of The Continuing Education Centre which is scheduled to take place on the 31st of May, 2023.
The Importance of the Matriculation Ceremony
For new students, the matriculation ceremony signifies the formal initiation into the university community. This ceremony marks the start of their academic journey and commitment to the pursuit of knowledge at FUDMA.
NEW: Click "HERE" to Join Our WhatsApp Group to Receive Daily News And Your School Latest Updates Directly on Your WhatsApp!



The 5th Matriculation Ceremony for students of the Continuing Education Centre underscores the commitment of the University to providing quality education that is flexible, practical and tailored to fit the schedules of its students, especially adult learners, working-class students, and others who may not have the opportunity for full-time studies.



Event Detail When and Where
The ceremony will commence promptly at 9:00 am on the 31st of May, 2023. The venue for this auspicious event is the University Auditorium located at the Take off campus, Federal University Dutsin-Ma. Attendees are advised to arrive early to secure seats and participate fully in the event.
A Call to the Public
The Federal University Dutsin-Ma welcomes all interested parties to join in celebrating the newest members of their academic community. Parents, friends, and well-wishers of the matriculating students, as well as any other interested individuals, are warmly invited to participate in the festivities.
This event represents not only the commitment of new students to their educational pursuits but also the ongoing commitment of FUDMA to provide a robust and inclusive learning environment.
The FUDMA community looks forward to welcoming all guests and celebrating this significant milestone in the students' academic journey.